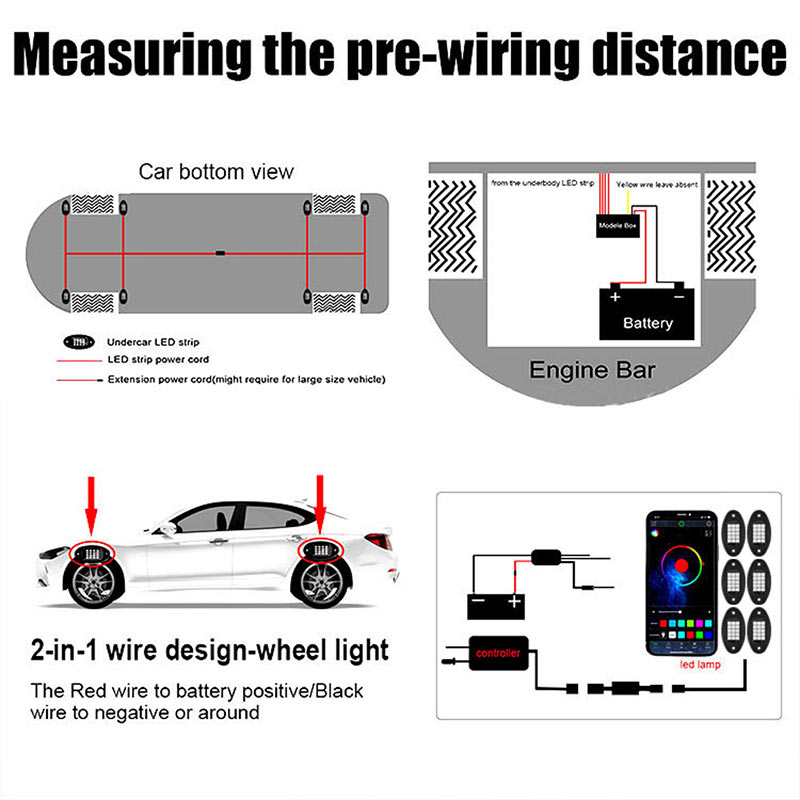 Connection method: black wire connected to the negative side of the power supply, red wire connected to the positive side of the power supply, blue wire connected to the brake line. When the brake lights up red, play a warning role.
1. Vibrant Colors: These rock lights for cars are also configurable through a convenient app, thus, you can you change multiple colors, adjust brightness, saturation, frequency or turn the lights on and off on smart phone app. Including the option to sync your lights with music on your phone, these rock lights are sure to rock your truck, jeep or even ATV.
2. Rugged and Durable: This car LED rock lights are made of plastic material, but they are also rugged enough to handle most situations. They are also shock, dust and rust resistant.
3. Universal: The truck LED rock ambient light with safety fuse provides circuit protection for your vehicle. Multiple lights are enough to illuminate the underside of your vehicle. Lightweight design make these rock lights for trucks installation are easily, you can mounts they under the body and anywhere else you need a pop of color.
4. Waterproof IP68: This rock lights comes equipped with a IP68 waterproof design, ensuring optimal performance even in inclement weather. You can count on our top-of-the-line waterproof technology to keep your lights shining bright.