I have got a 65-inch tv in my room and put led lights behind tv for ambiance, which has taken the room up a notch. These led strip lights behind the tv were super easy to install and brought a whole new dimension to watching TV at night.
Plugged led lights into the USB on the TV, and it comes on and off with the TV power. When your watching TV, it reduces eye strain and gives the picture on your set a much more enjoyment and relaxing feeling. This tv backlight creates a more pleasant environment.
So. Do you think you need to buy these led lights to install behind your TV? Use your imagination! They can be used anywhere. We think it has been a good investment.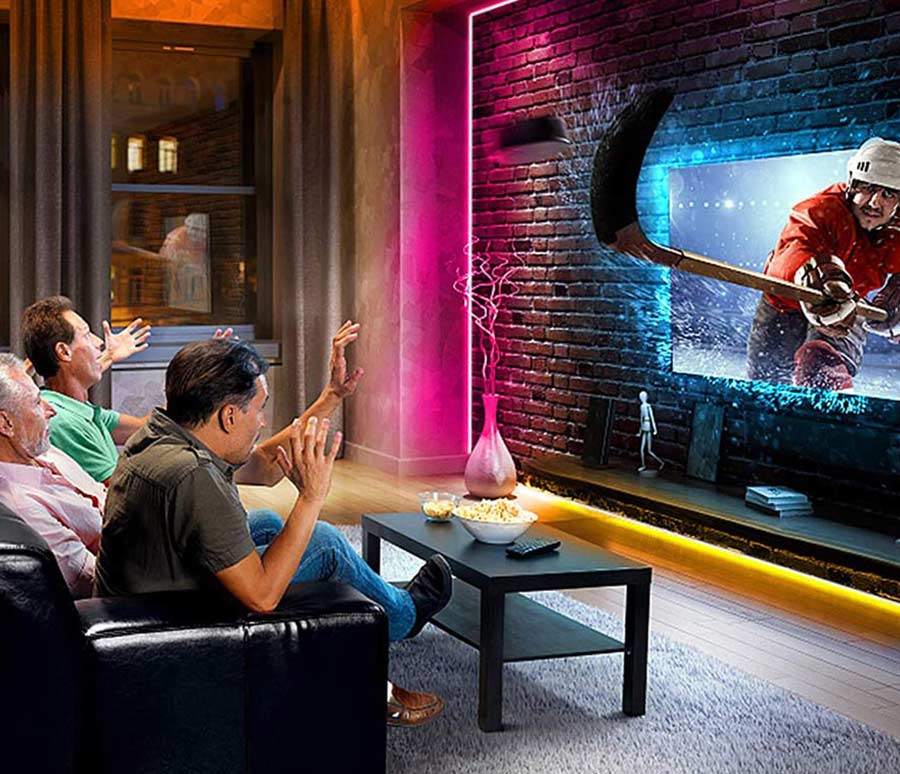 How to choose the best led lights behind tv
There are many LED strip lights on the market. How to get the best one for your TV? Different size TVs and aesthetics may need a different range of capabilities led strip lights for your tv.
Length of light behind tv
Before buying led strip lights for your tv, you should better measure the size of your TV in advance to determine the right length. A 6.5ft led light is adequate for the 65-inch TV, but for someone with 76-inch tv, you will need led light strips that are sized to match.
Powering the led strip lights
Some LED strip light working voltage is 24V. You can run a separate power adapter for the led lights. So get the led lights that are UL-Listed and are safe for daily use. But some tv led backlights can be powered by USB. This is much simpler for people who have an idle USB port on TV.
Multiple color options
I got led strip lights behind tv used as bias lighting and think it works well for that. It's bright enough it does seem to help with eye fatigue. You can choose to have a set color or change it according to the music. They have made watching tv so much more enjoyable. Now I can turn off all the lights and watch tv with no eye strain.
Lights turn on when you turn the TV on and off shortly after the TV powers down. It turns on to the last setting you had, so if you find a color/brightness combination you like, it makes the room look so nice. Like, a super easy way to upgrade your decor.
Adjustable brightness
Adjustable brightness will create different lighting effects. Watching movies in low lit can reduce eye strain. Before we added it to the TV we would have to keep the lights up in the room so the bright light emanating from the home theater display wouldn't bother my wife's eyes. On the other hand, I wanted the lights to lower so I could be more engrossed in the movie. This allows us to watch movies at the lower room light level I wanted, and it doesn't bother my wife's eyes. What is also neat is that it seems to make the picture stand out a bit more. I don't know why, but it does.
USB Connection
Most TV have usb ports for you to plug into, so the usb led light strips work better with TV, plug the lights into your USB on the TV, and it will turn off and on with your TV. You can use a power bank to power the LED strip lights conveniently and safely.
Decide on the remote control or app control
Remote control
I got the led lights with the wireless remote, and the remote works great. It controls brightness, color, and mode with ease. It has on/off buttons. Brightness Up/Down. Manual Color buttons rotate in either direction through the full 16 color selections. Three colors are 'white,' cool white, medium white, and warm white. Next are three buttons that set the mode, the bias strip can fade between the rainbow of available colors, and you can select the speed of the fade. I thought this could be pleasant, but I don't use it. Under the mode keys are 6 direct selection color buttons, three whites, red, blue, and green. So they directly provide the colors I want and more. It's a very effective remote.
I'm glad I got the usb led lights behind TV with the remote. It works perfectly. My TV is about a foot from the wall and casts fading light about two feet around the TV, which I find great. It can be brighter or more subtle with your setting. I can go either way from where I watch it.
App control
As with most, the remote doesn't always work. It would turn off and on but couldn't get any other buttons to work. Maybe Bluetooth would have been the way to go. If you're prone to losing remotes, I know I am, then using an app is also an option to consider. The remote is useless if you don't want the antenna visible.
LED lights behind tv benefits
The led lights around the back of the TV work great. It helps keep glare from outside, and nice to have a little bit of light behind it. Relieves stress on your eyes. It adds so much illusion to the tv.
The tv led lights deliver a spectacular array of colors and light brightness. They really are amazing. I bought these so I can have some ambiance and set the mood while watching movies with my GF.
I always thought these were just showy and immature, but after seeing them at a friend's, I'm hooked. For general movie watching, we have sconces that we'd dim, but someone always got a glare, with this, still get some diluted general backlighting, but no glare. The colors are fun too. Like for Halloween using orange or watching Ghostbusters with green… Plugged into my tv, they come on and turn off automatically.
I love the look it gives to my room. I will buy more to use them for the rest of the TVs I have in my home. It's a cheap way to make any room look fancy.
How do you install LED lights behind a TV?
LED lights makes our new UHD wall-mounted tv look freaking awesome! My kids play with the lights more than they watch TV. Can you put LED strip lights behind TV? If you want to make your TV stand out, put LED lights behind your TV.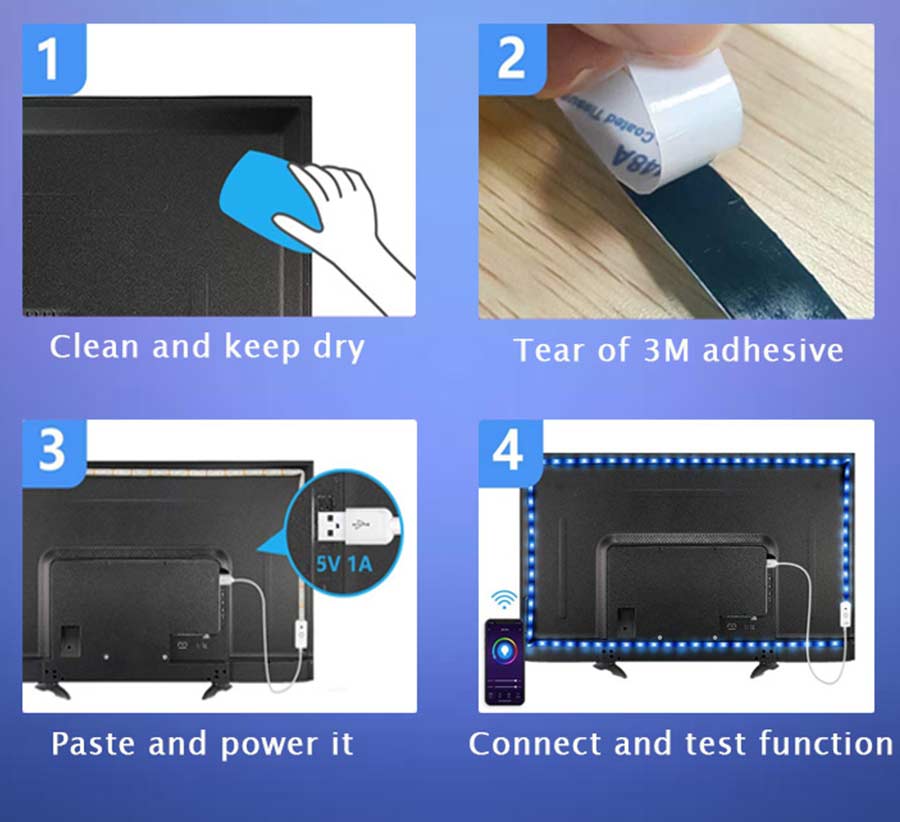 Step1. Clean and keep dry
Clean the back of the TV before sticking your LED strip lights to ensure they stay attached for a long time. If there's too much dust in the back of your tv where you want to stick, they will keep falling off after attaching them on. So use the sponge or cloth to clean the back to remove any dust. The sticker will stick best if it's clean.
Step2. Decide on the layout
Be sure to "test" the location of each strip and reposition of several times until it looks right and the TV is mounted. Once you stick them on they won't move. So make sure you know exactly where you want to place them. I used scotch tape to hang them in place so I knew where I wanted them.
Step3. Tear of 3M adhesive and paste it
After that I took the adhesive backing off and went all the way around. Taking care to basically follow the edge with a 1cm margin around the entire thing to get maximum coverage, I cut the extra at the end.
The corners can be a bit tricky. Just make sure to line it up so that you can plug the USB into a power source. The way I did, it was to go only 45 degrees at a time, taking care not to put the crease at any component locations. But ultimately not a huge deal, otherwise if they pre-bent for corners, it would only work with fixed monitor size.
Step4. Connect and test function
Plugged it into the USB port on the TV, and it turned on and off with the tv. Checked all of the available colors and chose green as my favorite. When watching the tv at night, the color allows me to focus better on TV and it makes the viewing experience more pleasurable.
It really looks great on our TV. Provides the perfect ambient light to watch a movie with all the lights out. Comes on immediately when you turn out your TV and turns off once you shut off the power.
Best way to stick an LED light strip behind a TV
Enjoy the movie now
I put led lights on the TV in under 5 minutes. It turns on as soon as the tv comes on. The contrast is great for making the picture look richer but also reducing eyestrain from direct light. And a nice little bonus is that it makes my living room look fancy.