You have to consider many factors when you plan to buy a led light bulb for your rooms. Not just to check the wattage but also to see the Kelvin number and total lumen to understand the brightness and color temperature of the led bulb you will purchase.
Every room we need to illuminate is unique. So you should use the right LED color for lighting. Compare daylight vs warm white vs soft white bulbs to choose the best one for your every room.
What Is Color Temperature?
It is a term used to describe how light produced by a led light bulb appears. It is measured in Kelvin and uses scales ranging from 1000 to 10000.
Most color temperatures for lighting in the daylight vs soft white vs bright white debate fall between 2000K to 6500K. Some options may be slightly lower or slightly higher.
When you know the Kelvin level of an LED bulb, you understand how the product looks and feels when it shines in your room.
There are no correct or incorrect answers when considering the appropriate color temperature required in the room.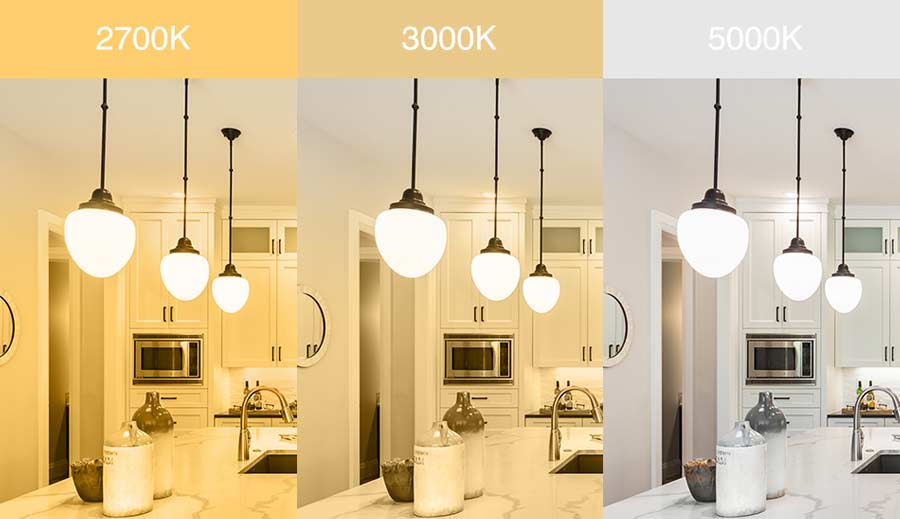 Soft White vs Daylight
Soft white light range from 2700K to 3000K on the Kelvin scale. It is considered a warmer color temperature because it projects orange light and how light interacts with warm colors in the room, such as red, orange, and brown.
Depending on its position on the Kelvin scale, the led lighting emits a range of warmth and coolness. For example, a 2700K bulb may emit a warmer light than a 3000K bulb.
Soft white lights are available anywhere you need ambient lights, such as kitchen corners, living rooms, bathrooms or your bedroom. These lights provide a warm and comfortable light to calm people, but they are not ideal for completing detailed tasks or reading small characters.
On the Kelvin scale, daylight lights range from 5000K to 6500K. It emits light similar to daylight, with a blue hue of white. Pure sunlight is about 5000K and lets you understand how color temperatures will react in your room.
Like the soft white light, the colors of the daylight lights vary. The higher the Kelvin level, the whiter the light. Daylight lights provide excellent color contrast, while soft white lights help mix colors in the room.
Daylight is suitable for areas where complex details, such as garages, offices, makeup mirrors, or display cases, need to be viewed.
LED Lighting is a personal preference. Things that look good to me may not look good in your eyes. If possible, test different lights to see which one works best.
Daylight vs soft white vs bright white
Updating lighting at home makes sense. They decide whether you want soft white, bright white, or daylight bulbs is a decision only you can make.
Everyone has a preference for the home they want. While soft white tends to be more relaxed, others prefer the natural lighting option because they like its refreshment for modern interiors.
Here are some direct comparisons to these three temperature options to help you identify the most meaningful one.
Daylight vs soft white for living room
Lighting is essential to any interior design in the living room. When you choose soft white, bright white, or daylight as the primary background lighting, you can change the overall atmosphere it offers.
Brighter light makes the living room feel more open, while soft tones often make the living room feel less.
It must be remembered that the living room is a multi-purpose space. You may need to use it for your home office during the day, your entertainment space, or even your bedroom at night.
Since the living room is one of your home's most commonly used places, the lighting solution you choose should focus on several elements.
Consider the living room's physical aspects before selecting the bulb's temperature and tone. What is its size? What key elements of this space do you want to highlight?
If the living room faces north, it will look very dark. When it looks south, there is more brightness – even in winter. The living room on the east side can enjoy the morning sun, while the living room on the west side can enjoy the sunset and more light in the evening. Once you know what's going to happen, you can use a combination of wall and ceiling lighting to balance with the mission, floor, and desk lights to get the level of lighting you want.
Most living rooms require a three-light fitting to provide adequate overhead lighting. Add a 5-arm lamp accessory with your favourite temperature and color for added interest. If the ceiling is high, chandeliers will work well in this space. If you do not have this option, you will want to view the flush lighting.
Another option for living room contrast is the use of dimmable lights. You can place a floor-based design in any corner to reflect some light from the ceiling. You can create a soft, diffuse look while still using a daylight bulb.
If you want work lighting in the living room, bright white bulbs are the best choice for most settings. Ambient light is usually soft white, and daylight bulbs are ideal for use in darker spaces where sunlight does not often enter.
Table lamps play a vital role in your overall program. They are a flexible way to add another layer of lighting while providing the benefit of going almost anywhere. You can use any temperature and color option with that lighting option.
Soft white or daylight bulbs for bedroom
Usually, we use the bedroom to relax. Soft white or warm white is the preferred color temperature for your bedroom. So look for lights' color temperatures of 2000K to 3500K.
However, when it comes to the word "daylight" in lighting, it is not the most enjoyable color in the bedroom. It can be a very bright and dazzling light with a blue hue.
If you want nice, warm lighting in the room. Use it on your bedroom lamp at night to relax. And stick to the tried and tested warm white lighting.
Daylight vs soft white bulbs for bathroom
In most bathrooms or vanity, you need a brighter light. The optimal color temperature of the bathroom is 3000K to 5000K. It went from 3000K to 5000K, which appears to work fine above bathroom sinks. Also, brighter lights appear to help ageing eyes.
The daylight bulbs, everything is so much brighter and doesn't give you that yellow tint. No more yellow glow!! It brightens my whole bathroom, and I can truly see it when applying makeup. Not blue at all. Very clear light. I will be putting it in all of my bathrooms.
Soft white or daylight led for kitchen
The soft white light is ideal for most kitchens. Warm light is less dazzling than daylight fixtures. It highlights the wood grain and looks great on the dirt tones.
We started with 2700k bulbs, and the light they cast was orange-ish and made my white cabinets look dull. I tried 4000k, which made everything blue and hurt my eyes. I finally tried 3000k, and it is exactly what I wanted!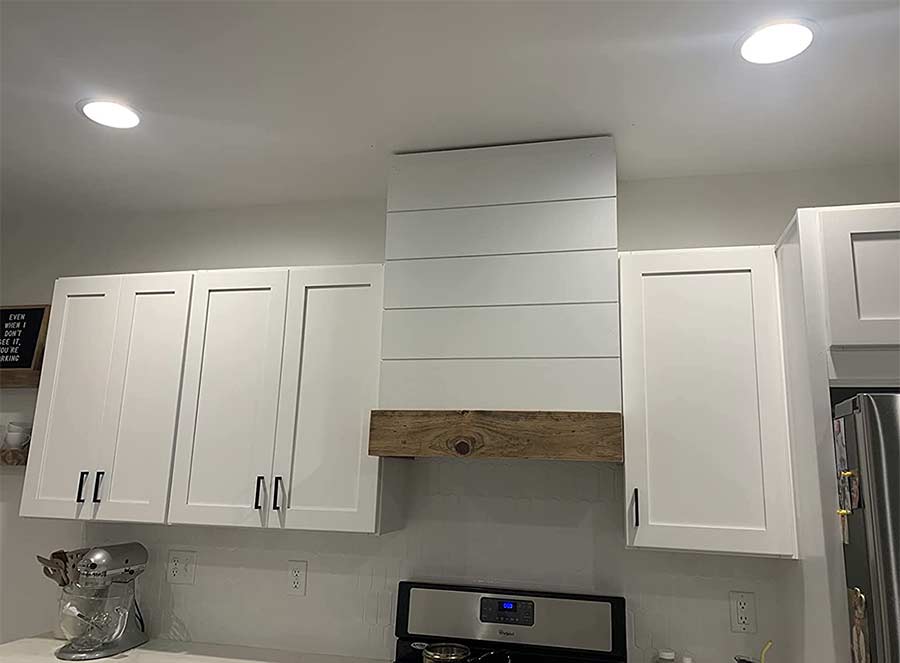 The 3000k bulbs do pick the room up without being too bright. They look better than the 2700k lamps they replaced. It gives a nice crisp light that doesn't have any blue or orange- very neutral and makes white walls and cabinets look best. 3000 K is a little cooler than 2700 K but still feels warm and homey compared to 4000 K.
Conclusion
Is soft white or daylight better? There's no one right answer. However, there are some good tips to follow, but it depends on your preferences.